This year, the global economy is expected to experience a significant slowdown due to high interest rates, Russia's invasion of Ukraine, and lingering effects of the pandemic.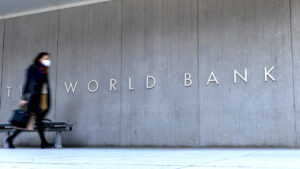 According to the World Bank's latest forecast, global economic growth is projected to be only 2.1 percent this year, compared to a 3.1 percent increase last year, as reported by AP.
Significant slowdown expected this year
The World Bank's latest forecast indicates a substantial decline in global trade this year, with the bank predicting a sharp drop in energy and commodity prices both this year and next year.
On Tuesday, World Bank Chief Economist Indermit Gill spoke to reporters, referring to the latest forecast as a bleak report.
He stated that the World Bank expects the severe and synchronized slowdown from last year to continue this year and become a pronounced deceleration.
"By the end of next year, one-third of developing countries will not have reached the per capita income level they had at the end of 2019," he said, as reported by AP.
Improvement compared to January forecast
Despite this, the World Bank's latest Global Economic Prospects report represents an improvement compared to the forecast from January, which estimated global growth at 1.7 percent this year.
Major central banks have aggressively raised interest rates to combat inflation, but the global economy has proven unexpectedly resilient to higher borrowing costs. The World Bank predicts that growth will increase to 2.4 percent next year.
Eurozone and USA
The World Bank expects the Eurozone to achieve 0.4 percent growth this year, an improvement compared to the January forecast when no growth was expected for the region.
In its latest forecast, the World Bank has upgraded its projection for the US economic growth this year to 1.1 percent, which is a modest increase compared to the bank's January forecast.
China, Japan, and India
The prospects for China have also been upgraded, with the world's second-largest economy now expected to grow by 5.6 percent this year.
The World Bank predicts that Japan's growth will slow from 1 percent last year to 0.8 percent this year. The bank also foresees a deceleration in India's growth, from 7.2 percent last year to 6.3 percent this year, although it remains strong, as reported by AP.