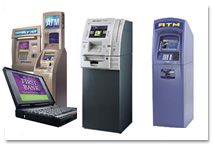 Get Free ATM Machines Quotes
ATM Machines services can be a game changer at your local business.
Sure your competitors have an ATM, but do they have an ATM that can increase store traffic by providing multiple services that will generate additional income for your business or organization?
MerchantSeek's featured provider can help customize an ATM program just for your business that will generate revenue every time your ATM is used to Dispense Cash.
It has been established that a well-placed ATM can increase profits, foot traffic and revenues in grocery stores, nightclubs, restaurants, casinos and movie theaters. ATM's also increase the amounts given to Non-Profits or other organizations that have an available ATM service. Customers have come to expect easy access to cash at these locations any time day or night.
However, when an ATM is non-existent or frequently unavailable, you lose more than transaction fees; you lose the confidence of your patrons.
They can either upgrade** your current ATM or provide you with a state-of-the-art ATM that will allow you to sell most of these services on a single piece of equipment. It's like adding a new clerk who won't ever need time off.
Additionally, they provide merchants with web-based, real-time reporting 24/7/365, which allows them to easily balance their terminals whenever it is convenient. Monthly reports are also included:
All terminal transaction activity.
Revenue generated by transactions
Amount of ACH deposit or check.
Popular ATM Locations
Convenience Stores
Churches
Charities With a Physical Location
Grocery and Super Markets
Pharmacies
Restaurants
Bars and Nightclubs
Casinos
Hotels and Motels
Movie Theaters
Salons and Spas
Schools
Amusement and Theme Parks
Sporting Venues
Convention Centers
Just some of the ATM Models that are supported (inquire for more info)
| | |
| --- | --- |
| Hoysung NH 1500 | Hyosung MoniMax 5300 |
| Triton RL 2000 | Triton RL 5000 |
ATM Purchase and Lease Options
Purchase
If you choose to purchase your ATM directly, you may keep around 75% (sometimes more) of the customer surcharge. You can make your purchase with checks, cash, and/or credit cards. Inquire for more info.
Free Placement
You can have a machine placed with you free of charge and still earn 25%-45% of the surcharge (Based on a typical customer surcharge that's still around $0.55-$1.00 earnings for your business or non-profit each time a customer uses your ATM machine). Inquire for more info.
Leasing
You can lease an ATM and earn 40-60% of the surcharge each time a customer makes a withdrawal. Merchants who select a lease option must meet certain credit requirements, but with our Lease Assurance Program, you shouldn't have to worry; most lease applications are approved. We have specials that run from only $75.99 to $99.99 per month (small fee while your store earn revenue from each withdrawal). Inquire for more info.
ATM Service
As with any MerchantSeek Featured Provider they are committed to providing their customers the most cost effective and efficient maintenance services in the industry. Their internal software allows them to generate a daily report of ATM terminals that have not performed a transaction within a specific time frame. Every location appearing on that list receives a call from one of their customer service representatives (CSR) in order to ascertain the cause for the inactivity.
These calls are tracked, monitored, and escalated to management when necessary. CSRs also utilize the real-time access to terminal information to assess the needs of each individual customer. If a technical support problem is discovered that cannot be resolved over the phone, they will dispatch a technician to the site, usually within 24 to 48 hours.
The staff of fully trained certified technicians and service representatives are available nationwide to make sure that your installations and repairs are completed quickly and professionally.
Our partner offer low-cost comprehensive service agreements that cover parts, labor, and supplies, so you won't receive any unexpected bills and you have access to our Technical Support Center 24-hours a day, 365 days a year.
Ready to start earning revenue with your own ATM Machine today?  Pre-Apply Now in the short form below!
Unfortunately Home-Based businesses do not qualify for ATM Services.
ATM Machines and Services