See how some popular merchant account providers rank against each other. Below is our merchant account comparison chart of big name merchant account providers who offers most credit card processing solutions:
Monthly Fees:
Gateway Fee
$0 (in house Gateway )
$0 (Payline) - $15 (3rd party)
$0-10
$10
$20
Statement Fee
$7.95
$10 - $25 (Pro)
$0-10
$7.50
$10
Monthly Minimum
$0 - $25 Depending on account type
$0
$25
$25
$5
Transaction Fees:
Discount Rate, card present (retail)
0.28%-1.58%
0.20% - 1.69%
0.15% -
0.79%
0.55%
Discount Rate, card not present (internet)
0.28%-2.08%
0.50% - 2.49%
1.99% -
1.28%
2.09%
Transaction Fee, card present (retail)
$0.10
$0.10
$0.10
$0.20
$0.16
Transaction Fee, card not present (internet)
$0.22
$0.10
$0.18
$0.25
$0.16
Virtual Terminal (Online Processing)
yes
yes
yes
yes
yes
Payment Gateway Options
In house Gateway, or for Internet accounts ONLY - Authorize.net
Payline Gateway (NMI), Auth.net, NPC Secure, Skipjack
Auth.net, PAYware
Orbital
AVPS eCommerce
Accept All Major Credit Cards: VISA, Mastercard, American express, Discover, Debit
yes
yes
yes
yes
yes
Extra/unique
True zero dollar cancellation fee. A+ BBB rating, Lowest cost guarantee, Lowest cost on equipment, GENIUS customer engagement device
Free Online Reporting, POS, iPad/iPhone apps available, 97% Approval for High Risk, Best Price Promise, A BBB Rating, Donate 10% of revenue to Charity at no additional fee
Free Online Reporting!
Good for high risk business.
Do you want to be featured in this providers list? Please contact us.
Merchant Account Company Reviews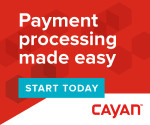 Cayan Review
Cayan, formerly known as Merchant Warehouse is one of the leading US credit card processing providers. They offer a wide range of services including mobile solutions for iphone, Blackberry, Android and Windows. With a 24/7 in-house support they also have a high satisfaction factor among their customers. Read the full review

Personal Account Representative Leaders Merchant Review
Leaders Merchant Services is a California-based company that offers a wide range of merchant services including, credit card machines for leasing or purchasing, competitive processing fees on all card types online as well as retail, CheckPoint check services, and the list goes on and on. Read the full review
What are Your Processing Needs?
Different businesses have need of different merchant account solutions. A retail business might best be served by a swipe terminal with Point of Sale (POS) software. If you run a website and have no physical store, you probably want to look into an online merchant account. A mobile solution is often preferred by restaurants, construction workers and other businesses that need a little more flexibility. Below you will find links to pages with more specialized information:
Merchant Account Fees and Rates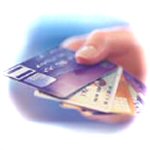 Comparing rates and fees from different providers is not an easy task by anyone's standards. It is very difficult because of the different rates charged depending on card type, such as credit, debit, rewards and corporate cards. As if that is not enough, merchant account providers make it even more difficult by charging different monthly fees, start-up fees and cancellation fees for example. Follow the link to learn more.